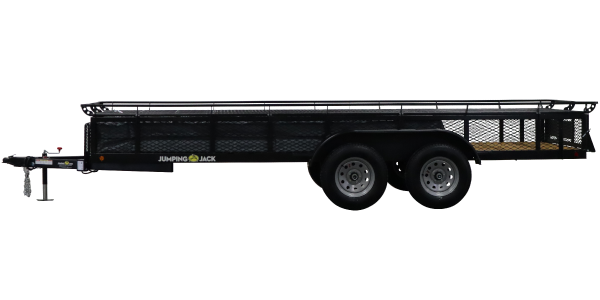 Trailer Dimensions Overall: 92" wide x 252" long
Upper Deck Dimensions (between rails): 76" wide x 214" long
Inside Trailer Bed Dimensions: 68" wide x 206" long
Deck Height: 39"
Upper Rail Height: 43"
Utility Wall Height: 52"
Coupler Ball Size: 2 5/16" ball
Coupler Height: 18.5" from ground to top
Lights: LED, recessed to avoid damage
Electrical: Seven-way round plug
Gross Axle Weight Rating (GAWR): 7000 lbs. torsion axle
Gross Vehicle Weight Rating (GVWR): 7000 lbs.
Total Weight: (tent, trailer and frame) 2200 lbs.
Trailer Weight / Tent & Frame Weight: 1800 lbs./ 400 lbs.
Tongue Weight: 195 lbs.
Tire Size: ST 205/D15C
Rim: 15" Steel
Ground Clearance: 14"
Lug Pattern: 5 on 4 ½
Cold Tire Pressure: 50 psi
Electric Brakes: Standard
Wheel Well step plates
Multiple Tie Downs
Front Gate: for Utility Mode
Powder Coated Frame
Jumbo 6x17 Utility
The Ultimate Camping Utility Trailer
The JUMBO 6x17 is the big boy when you need to carry more toys or sleep more people. Sized for up to 4 ATVs , it will get you and your gear where you need to go.
Will It Fit?12' TENT SPECS - EXTERIOR
Protective Bag: Heavy duty vinyl- polyester bag.
Tent Shell: 13 oz. mildew and water-resistant marine canvas.
Seams: Strong double stitched seams and reinforced corners.
Windows: Seven large screened windows for excellent cross ventilation and clear outside view.
Outside Step Stool included.
12' TENT SPECS - INTERIOR
144 square feet of interior space.
Head Room: 7 foot ceiling height.
Tent Frame: Powder-coated steel.
Interior Table: Swing-up table (32"x44").
Beds: Factory coniguration of two single beds (34"x140"), can be expanded to double beds on one or both sides with optional Half Bed Extension* accessories.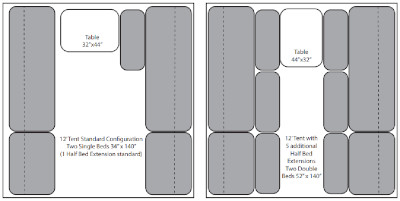 Sleeping Capacity: Up to 8 adults in beds.
* Factory configuration includes 0ne Half Bed Extension.
Half Bed Extensions can also be used as seat backs at the interior table.
​
Youtube How To Set Up The Trailor
​